Timeshare resale. Sell your timeshare now with Canada's largest timeshare resale company. Sell timeshare, clubs, RCI points.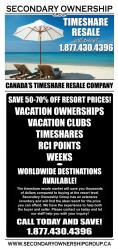 SELL TIMESHARE, VACATION CLUB OR RCI POINTS
New offers are coming in every day with our sales agents doing in person presentations along with the addition of Zoom and Microsoft Teams meetings. These new platforms are allowing us to do face to face presentations with buyers all over North America and the world. Your best chance at getting your timeshare sold is getting it in front of these buyers.

We directly market and advertise your timeshare or vacation ownership property; We will take the bids and negotiate for the highest offers, prepare the contracts, deliver the transaction to escrow, assist in the closing process and work with you and the buyer till the transaction is completed. We believe that timeshare needs Live agents to be able to turn true Opportunities into sales. At Secondary Ownership Group, we have full time trained and experienced agents along with employing innovative programs and aggressive marketing strategies to advertise your timeshare, vacation club or RCI points to millions of buyers worldwide.
(Please fill out the short form below or call toll free 1-877 430 4396)